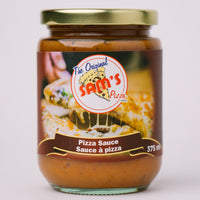 The Original Sam's Pizza Sauce 375ml
The original "brown" pizza sauce created in Nova Scotia more than 50 years ago, starting a pizza craze known worldwide!
A special blend of savory spices and vegetables, that create a gourmet pizza experience before ever adding a topping.
People come from thousands of miles away each year to enjoy The Original Sam's Pizza and now, you can bring the unique taste to wherever you call home.
SHOP NOW
Retailers & Food Service Providers
Interested in The Original Sam's Pizza products for your business?
In addition to our 375ml bottles of sauce, we sell larger food service sized bottles and frozen Sam's pizzas, to retailers and food service providers. To learn more, please contact: info@theoriginalsamspizza.ca